Case studies
Landlords CAT A Fit Out

| | |
| --- | --- |
| Client | Halcrow Group |
| Sector | Consultant Engineering |
| Size | 55,000 sq ft |
| Programme | 13 weeks |
| Contract Sum | £1.3 Million |
| Location | Shortlands, London |
With a fast track pre-contract programme to dovetail with the needs of the incoming tenant, Muse coordinated the complete strip out to shell and core of two floors and the design and installation of a new BMS controlled VAV fresh air system along with raised floors, new suspended ceilings and intelligent lighting system.
Special Features: All completed on time and under budget including additional ancillary works with adjoining tenant.
"Now that the project is complete can I compliment you and Muse Interiors for the delivery of the Shortlands project. As with all projects in 'live' space, our concerns associated with disruption to the business, health and safety and other tenants in the building were paramount. However at the end of an incident-free project you are to be congratulated on your delivery of this. I look forward to working with you again in the future."

Chris Townsend, Development Manager, Halcrow Group
Office Refurbishment

| | |
| --- | --- |
| Client | Bride Hall |
| Sector | Property Development |
| Size | 40000sq ft |
| Programme | 13 weeks |
| Contract Sum | £900,000 |
| Location | Global House, Epsom |
"Global House is a 1980's office building attached to one of the shopping centres in our portfolio. We wanted to carry out a refurbishment to refresh the space, which was partly occupied by serviced offices, and approached Muse very early in the project who then helped us develop the design and specification for the works, coordinating measured surveys and specialist inspections. Each stage of the brief and design development was confirmed and documented with a revised, detailed cost plan. Muse worked very closely with us at all stages.

This was far from a straightforward refurbishment owing to the project being divided into three phases and all the occupiers of this serviced accommodation on the floors to be refurbished needing to remain operational throughout. This involved a considerable amount of management and co-ordination as the project also included the strip out and refurbishment of the main entrance, reception and the toilet accommodation to all floors.

Despite our need to change the programme and scope to adapt to the tenants needs, Bride Hall were delighted that the project was finished to an exceptionally high standard on time and under budget.

We were particularly pleased with the transformation of the reception and previously oppressive entrance areas which were transformed to provide a welcoming and contemporary environment within a very constrained budget."

Vernon Phillips, Director, Bride Hall
Office Strip Out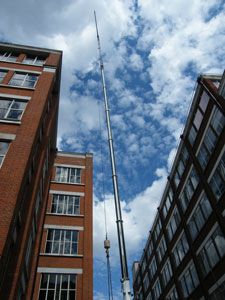 | | |
| --- | --- |
| Client | Halcrow Group |
| Sector | Consultant Engineering |
| Size | 121,000 sq ft |
| Programme | 10 weeks |
| Contract Sum | £500,000 |
| Location | Old EMI Headquarters, London |
Challenges with Halcrow's new London HQ building included space that was heavily cellularised and considerable uncertainty over the presence of asbestos in the structure.
Muse Interiors coordinated the complete strip out of the space back to shell and core, identified, isolated and safely removed all asbestos located in the process.
"Congratulations on a first class project. Strip out, demolition and site preparation are high-risk activities, however all elements of the project have been exemplary and free of issue. I would also extend our thanks for the close liaison maintained with the other contractors prior to their arrival on site; this has spared us considerable down time and added real value to the project."

Chris Townsend, Development Manager, Halcrow Group
Office Refurbishment

| | |
| --- | --- |
| Client | Diebold |
| Sector | Security |
| Size | 3000sq ft |
| Programme | 6 weeks |
| Contract Sum | £300,000 |
| Location | Hammersmith, London |
Muse were selected to complete a full refurbishment and fit out of this space from shell and core. In a nine storey multi-tenanted building, the finished project provided office suites, kitchen facilities, break out space, meeting room and open plan desking areas to form Diebold's London HQ.
Muse provided a turn key service that included the purchasing of furniture and AV facilities along with enhanced security.
A subsequent reappointment involved Muse with the provision of a Telepresence room and minor moves and changes.
Office Selection & Refurbishment
| | |
| --- | --- |
| Client | Refugee Legal Centre |
| Sector | Government/ Charity |
| Size | 5,250 sq ft |
| Programme | 5 weeks |
| Contract Sum | £160,000 |
| Location | Zicon House, Leeds |
The RLC employed Muse Interiors to assist with the selection process for their new regional office in Leeds and to design and fit out the 5,000 sq ft selected.
Space: Open plan workspace, Eight 1-on-1 interview suites, reception, executive offices and canteen.
Special Features: Enhanced mechanical fresh air installation; enhanced sound attenuation; enhanced security and panic alarm installation.
"As a relative novice at space planning and large scale office moves, Muse Interior's guidance and experience were invaluable in ensuring that we completed the move to our new premises on time and on budget. As a result of Nick's help, we relocated to the right building which was fitted out to suit our particular business needs. Leaving all the hard work to Muse meant that I was able to focus on my job and minimise the disruption to the service."

Alex Warren, Leeds Regional Director, Refugee Legal Centre
Delapidations Administration

| | |
| --- | --- |
| Client | Refugee Legal Centre |
| Sector | Government / Charity |
| Location | Leeds |
With a proposed move in date for their new Leeds premises that coincided with the expiry date of their old office space, the RLC had no time to complete any remedial works prior to moving out. Muse Interiors were tasked to negotiate the schedule of dilapidations with the Landlord's surveyor.
After a joint site inspection and rounds of meetings, the initial Landlord's claim of £98,000 was reduced and agreed at £48,000.
"Nick's negotiation skills certainly played to our advantage when he saved us over 50% on our delapidation costs on our old building."

Alex Warren, Leeds Regional Director, Refugee Legal Centre